Sistersoul is the women's ministry here at Christchurch, it consists of sistersoul, our worship and discipleship arm; sistersoul extra, our social and outreach arm and sister2sister, our serving arm which aims to bless groups of women in our local community.
 
Sistersoul – the discipleship and worship ministry at Christchurch.
Our discipleship arm exists purely to encourage, spur on and challenge you in your walk with Jesus. Living out your faith at home, in the workplace and in our communities… Wherever you are! To grow together in Christ, to build strong friendships and share the transforming love of God.
We aim to gather together women, ladies, girls… (14 years +, whatever age or stage)  to worship, pray, open the Bible together and discuss issues which relate to our lives today.
We hold 2 breakfasts a year held on a Saturday morning. Starting with breakfast (pastries, bacon butties and continental) followed by a variety of opportunities involving worship, prayer, teaching, testimony and ministry
Each year we plan a teaching day (Saturday) with an invited speaker/worship leader to give us some time out to invest in our relationships with God and with each other.
Many women go to the following conferences, watch out in the weekly notice sheets for further information.
Cherish Women's Conference, Life Church, Bradford, at the Leeds Arena
Hillsong Conference, London
New Wine Women's Day, London
| | | | |
| --- | --- | --- | --- |
| | | | |
| Dinner at the  Sistersoul teaching day 14.05.16 | | | |
---
Events in 2018:
Breakfa
st – January 2018
Guest speaker: Tina Carpenter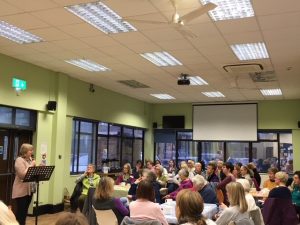 ---
Breakfast – Saturday 28th April 2018
Time: 8.30 – 10.00am
Venue: Peartree
Theme: Porridge and Prayer
Please email sistersoul@christchurchwgc.org.uk for more details.
---
Teaching Day – Saturday 20th October 2018
Time:  2.00 – 6.00pm
Venue:  Peartree
Price: Tbc
Guest Speaker:  Dr Kate Middleton.
Kate is a Psychologist, Church leader, Author and Mum.  She will be speaking about stress, work, family and church based on her book 'Refuel'.
Tickets will be available soon, please email sistersoul@christchurchwgc.org.uk for more details
---
Food for thought…
Romans 12 v 1-2
12 1-2 So here's what I want you to do, God helping you: Take your everyday, ordinary life—your sleeping, eating, going-to-work, and walking-around life—and place it before God as an offering. Embracing what God does for you is the best thing you can do for him. Don't become so well-adjusted to your culture that you fit into it without even thinking. Instead, fix your attention on God. You'll be changed from the inside out. Readily recognize what he wants from you, and quickly respond to it. Unlike the culture around you, always dragging you down to its level of immaturity, God brings the best out of you, develops well-formed maturity in you
---
Staying in contact
We welcome anyone and everyone to the Sistersoul events. Get in touch with us or come along to the next event!!
For up to date information in your email inbox, CLICK HERE to subscribe to our mailing list.
---
Talks
Your identity in Jesus
---

Sistersoul Extra – the social and outreach part of Sistersoul
We are responsible for organising the social and outreach activities for women at Christchurch.   We hold 3 events a year and  have some exciting things coming up.  Bring your friends along and enjoy catching up with church friends too.  For more information please contact us at sistersoul@christchurchwgc.org.uk.
Sharon, Elayne, Fiona, Natasha, Rachel and Tracie
---
Quiz Night – Saturday 29th September                           
Time: Tbc
Venue: Peartree
Price: £3 per person (includes nibbles and puddings)
Come and try your luck at our Quiz Night with a difference!
Details to follow soon      
---

Christchurch's Sister2Sister (S2S) ministry aims to reach out to and minister to groups of women in the area who are in need extra encouragement.
The S2S team regularly run a Pamper party evening at a local venue.  At this event we provide a foot spa, massage chair, facial packs and nail painting as well as drinks, snacks and a chance for conversation and relationship building. We hope this event serves as a chance to bring together women of different age groups from different walks of life, as we journey to discover what it means to be a woman of God.  "She is Clothed with Strength and Dignity; She can Laugh at the Days to Come" Proverbs 31:25
Please contact Katie Mead for any further information or if you have any comments or suggestions for this exciting ministry.
| | | |
| --- | --- | --- |
| | | |
| Gift packs being prepared for a Pamper Party | | |