Holiday events
Family Fun
Are you tearing your hair out during the holidays?
Are you finding it hard to find something to do with your 0-10 year olds?
Then Family Fun may be the answer.
These events run during school holidays for an hour and a half. Activities include a book area, jigsaws, a large range of craft, all linked to a theme.
To keep up to date with events why not join our mailing listing by clicking here
Download the flyer:
For more information, please contact:
Diane Webb 07724 104653
diane.webb@christchurchwgc.org.uk
Summer Holiday Club
These run in the summer holidays for children aged 5-10 (school year 1-5) for 4 mornings – 2 ½ hours each day. Based on a bible theme with games, songs, puppets and group time. Over the last few years we have had our own Olympics, created a seaside side and been to space. This year come and have fun being a Mega Maker with lots of inventing! Booking essential. This year come and be part of a great team, see what it like to work together and discover more about what it means to be on God's team. Registration forms and booking will be available from early June
Download the flyer: Holiday club flyer 2018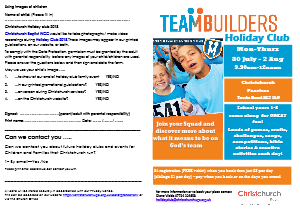 For more information, please contact:
Diane Webb 07724 104653
diane.webb@christchurchwgc.org.uk