Family Fun
Family Fun First Friday
Come along on your way home from school and enjoy a fun time with your kids
Enjoy drinks and home made cakes as you arrive
Loads of activities in the craft room – build and stick, make masks, colour pictures
Followed by songs, games quizzes and an interactive Bible story
Family Fun is for parents and carers with primary school children– but you can bring their pre-school siblings along too.
For those who enjoy our family fun events in the holidays we also run these on the'First Friday' of every month in term time.
Timing is 3.30pm – 4.45pm. We make a small charge of £1 per family.
Download a programme here:First Friday Autumn dates 2017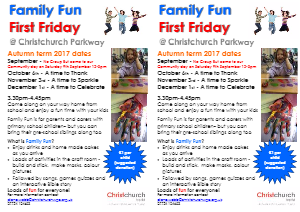 Loads of fun for everyone!